Prepare
To prepare your environment and avoid disruptions you need to take into account that your environment sometimes reaches outside your physical geographical location and hence so must your essential communications system.
Reporting the arrival of a high risk individual at the hospital, the ambulance staff has secure system access to the hospital, using the C-One App on Tablet, Smartphone or custom Android device enabling them to report and "call ahead" their arrival.
Security operations seamlessly receive the report in their SAM Communication dashboard. Using the C-One powerful case grouping feature, security operations confirms, creates a case and assigns staff who can respond and react with appropriate actions and confirm when done.
An ambulance is on its way to the hospital with a high risk patient. With C-Ones secure connection they report to the Hospital Communication Dashboard and requests the hospital to prepare accordingly.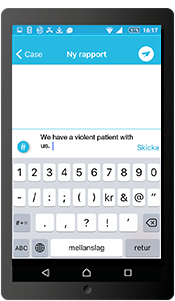 Individual tasks are discretely distributed to hospital staff.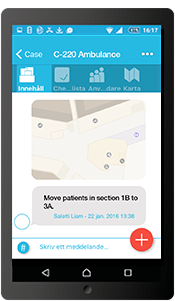 Staff confirm back to the Hospital Communication Dashboard - tasks completed.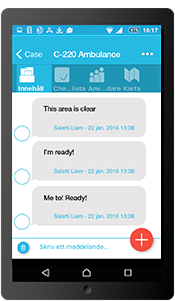 Download product information
Key features
Collaboration Control
The C-One system has been designed to support collaboration and teamwork.
Read more
Tracability
The C-One system is fitted with a comprehensive tracking functionality in order to review events from start to finish and analyse the actions taken.
Read more
Designed for mobility
C-One is designed to fit the devices your staff already own and know how to use.