C-One features and benefits
Our system is based on security and collaboration. By using the latest software technology and encrypted mobile data is C-One the most powerful and reliable security system available.
It's highly customizable and use an intuitive interface for easy access and collaboration. Comparable to social media apps in usability but with a top level of security tech.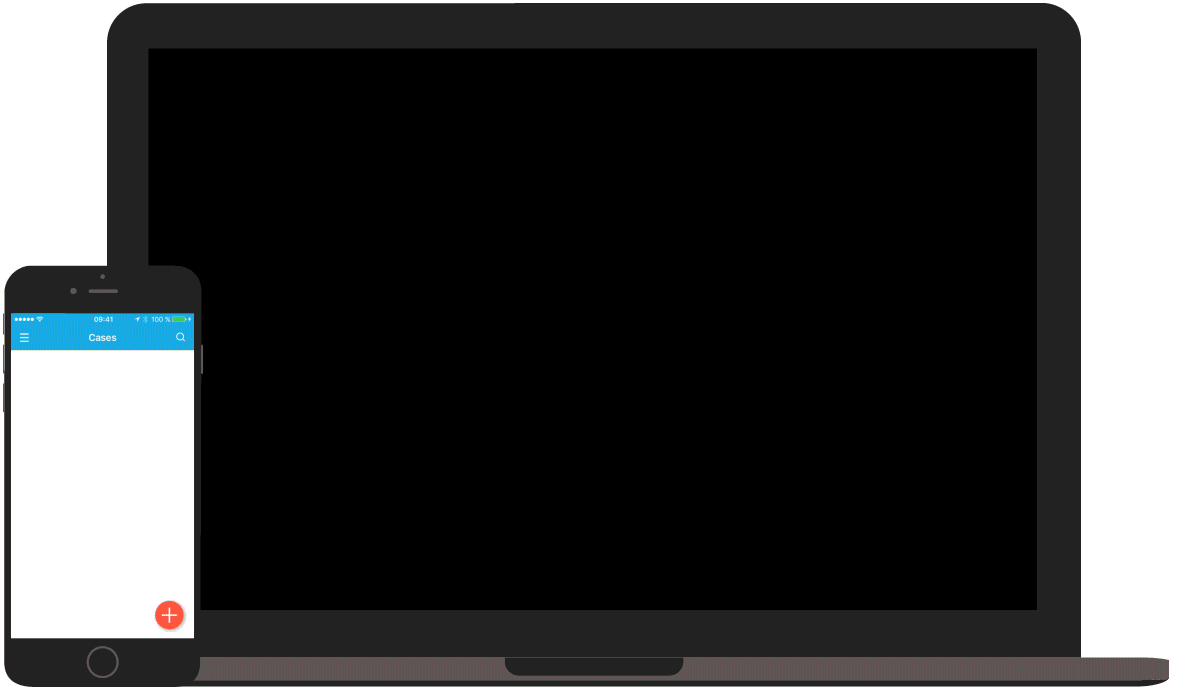 Download product information
Role design
Thanks to its premium flexibility, the C-One system is able to cater for users of different types. When accessing the system, each user is assigned a different system role, providing them with certain permissions defining what they are able to do, as well as a certain content access level defining what they are able to see.
Each different role is ascribed a different authority, allowing each solution to adapt to your organization's specific hierarchy. Roles can be defined in processes, in events, and in collaboration, or even completely separate from the organizational structure itself.
The role design of C-One allows you to leverage your organization's structure, empowering all those involved in its communication to take responsibility and use their skills to the best of their ability. In this way, C-One is supported by the combination of both hierarchical and social media communication.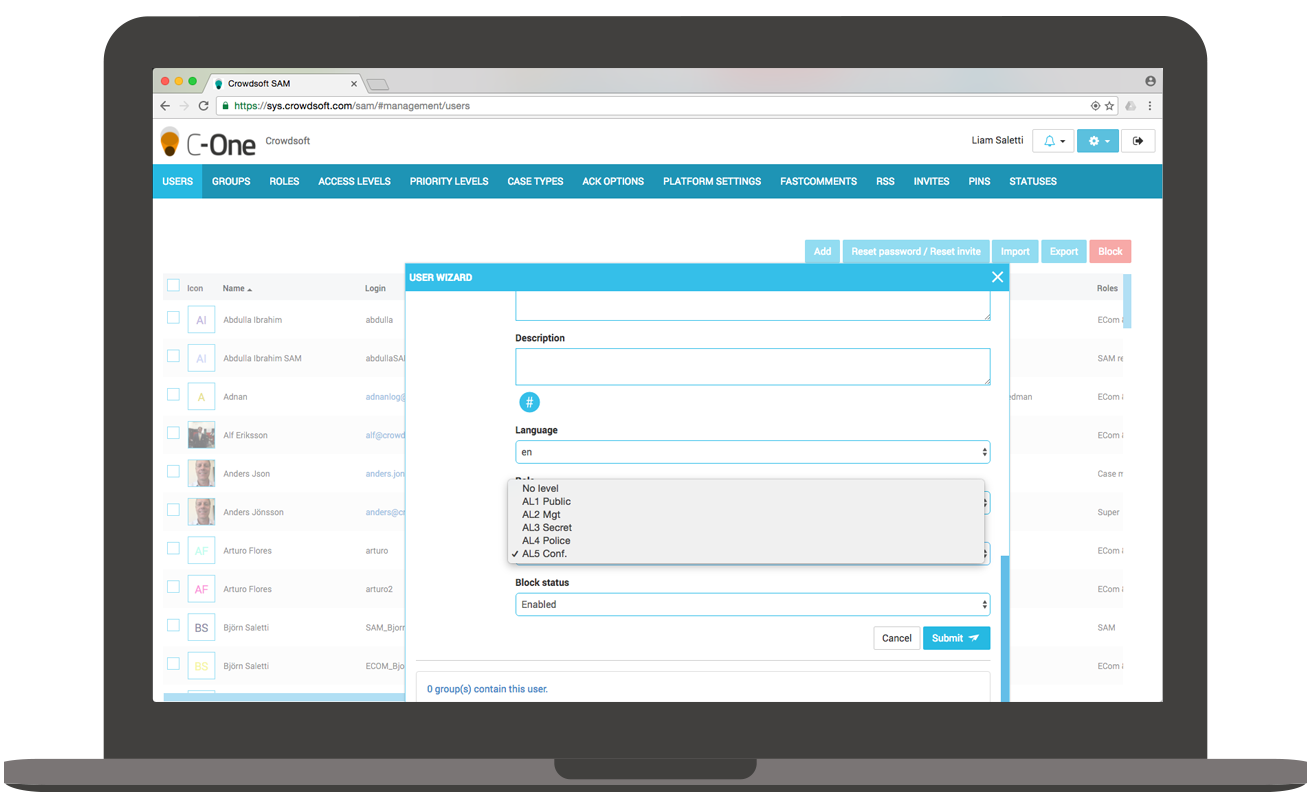 Collaboration Control
Role design, effective case management and information structure combine successfully in order to deliver collaboration control - the right information reaching the right people with complete traceability, and a full overview available through the Situational Awareness Management feature.
Effective collaboration is achieved through bringing users and media together in each reported case.
This unique solution offers both operational control and risk management, while allowing you complete control over the setup of your social media communication.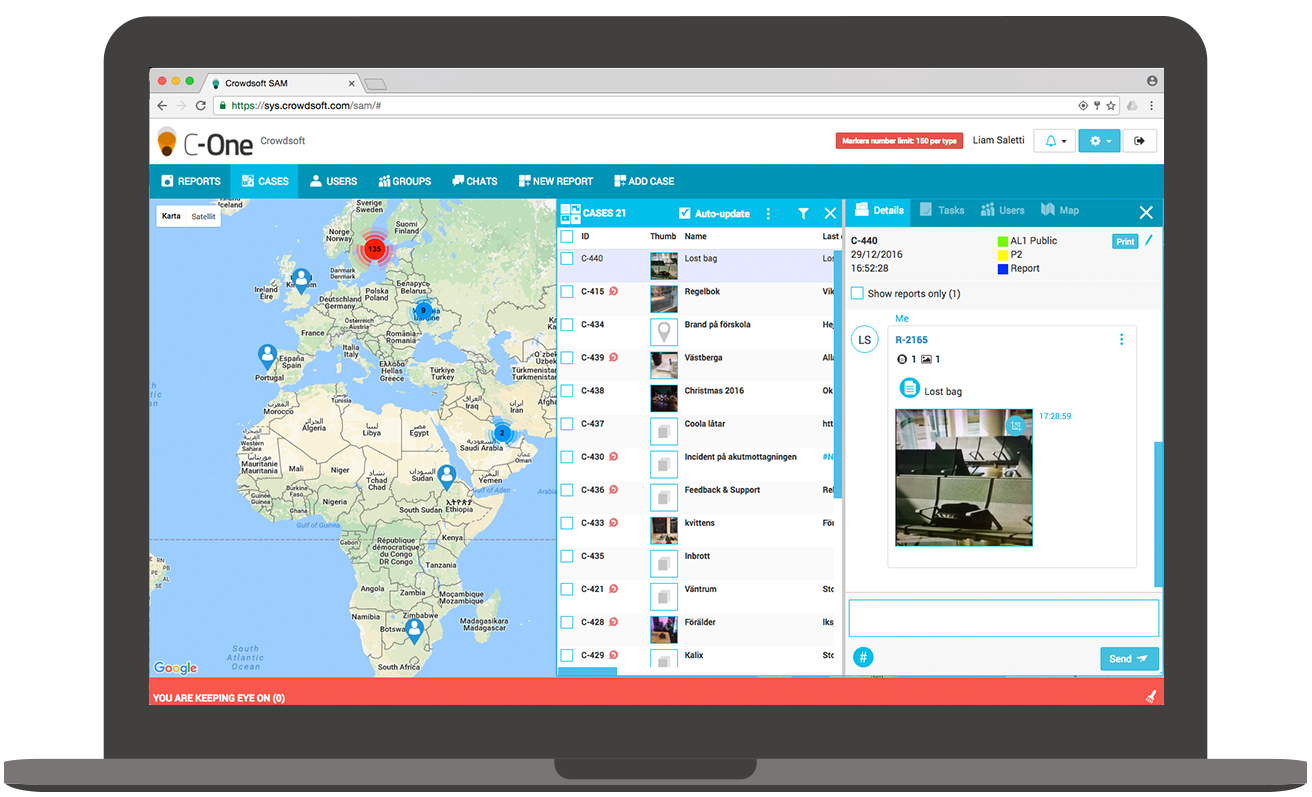 Security Architecture
What this means Whether your data is active or static, the C-One system with its built-in native app will protect the integrity of your information at all times, giving you complete control over your system users, user rights, and your organization's communication as a whole.
Thanks to the architecture of the C-One system's security, user rights and content access can be controlled on an individual case-by-case basis. This unique solution makes use of secure native apps that can be installed on regular smartphones, controlling the content that users are able to see, and the actions they are able to take.
Security architecture allows for operational control and provides effective risk management, including communication control and the setup of social communication. This infrastructure is supported by the built-in native app, and is a smart solution that allows for the sharing of certain information with certain users only.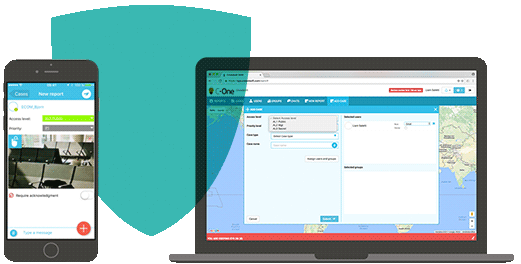 Adaptality
Roles, cases and structured information make every solution easy to adjust to your particular organization, the adaptability of the C-One system creating a means of integrating each solution with your existing systems.
The communication setup of the C-One system can be adapted to different organizations, methods and processes. It can also support events within a structured organization. Not only does this allow for premium flexibility in its installation, it also allows scope for solutions that deliver relevant information on a need-to-know basis. Further to this, iOS and Android compatibility make for a flexible, affordable user base expansion, particularly when complementing existing radio communications.
Bespoke role design allows you to leverage your organization's structure, empowering users to take responsibility and use their skills to the best of their ability. In this way, role design and collaboration are key in helping C-One to strengthen the existing structure of an organization.
Case management
Cases are posted for all predefined receivers to view in the same way they would a post on social media. Available resources are then able to act appropriately, whether by commenting, sending pictures or distributing assignments.
Every case is handled at the appropriate level, with the relevant resources brought to bear. While each case supports regular business operations, it can also become the catalyst for an escalated activity. Cases can be divided, expanded, prioritized or archived, with fitting solutions allowing for each one to move seamlessly through the organization.
Case management allows for operational control and risk management - the structure of each case, along with its particular roles and access levels, enabling you to control your communication, and ultimately, your operations.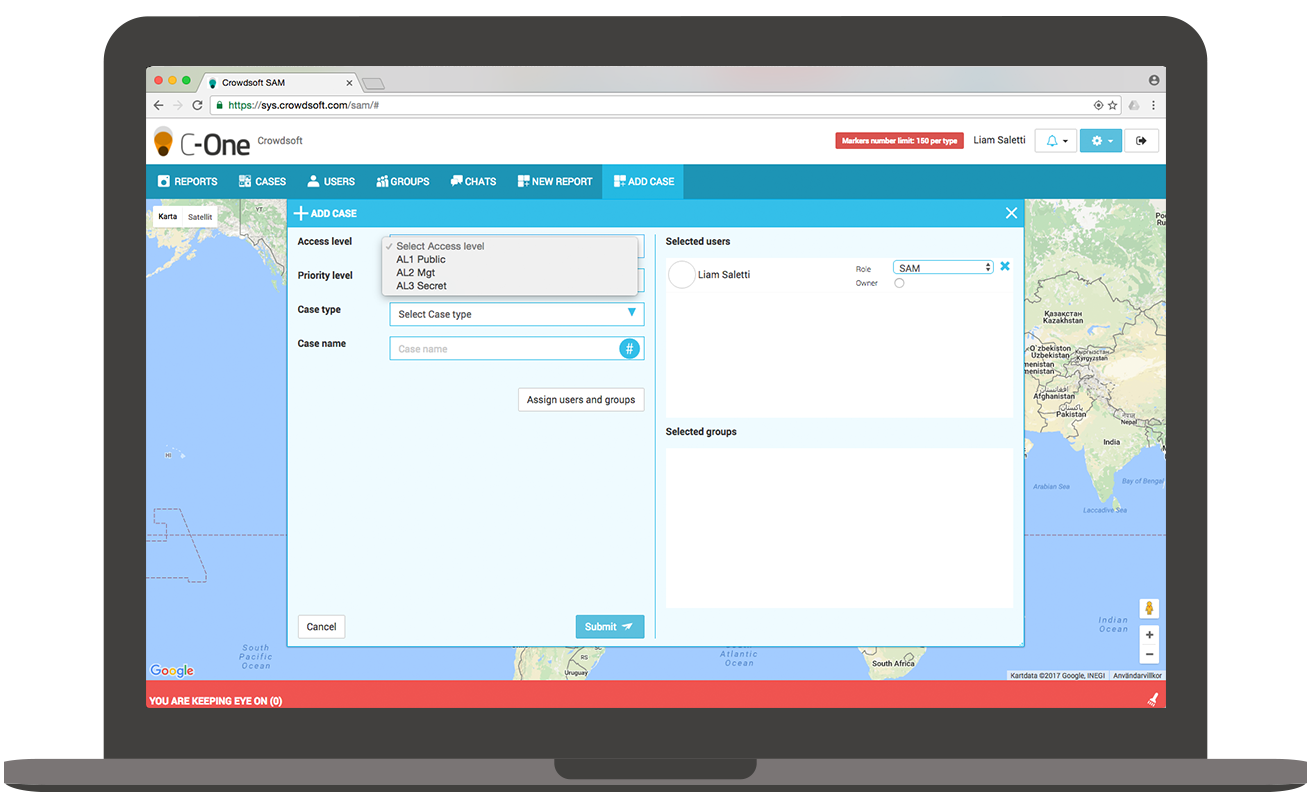 Rich media messaging
C-One rich media messaging enables improved shared awareness. Everyone can see and share the same:
HD Photos
HD Videos
Sound clips
Files
Text
Places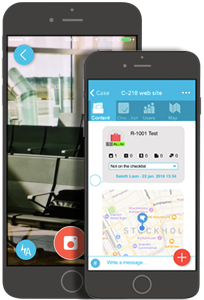 Traceability
All data generated during communications is automatically archived and easy to use.
With a complete tracking functionality, C-One is able to to store all media and communications, ensuring that every interaction is fully traceable in order to provide data for further scrutiny and analysis.
Traceability enables continuous improvement, with analytical capabilities providing the foundation for long-term operational modifications and updates. This is supported by the rich information quality enabled by social media communication, and gives C-One ongoing relevance in the marketplace.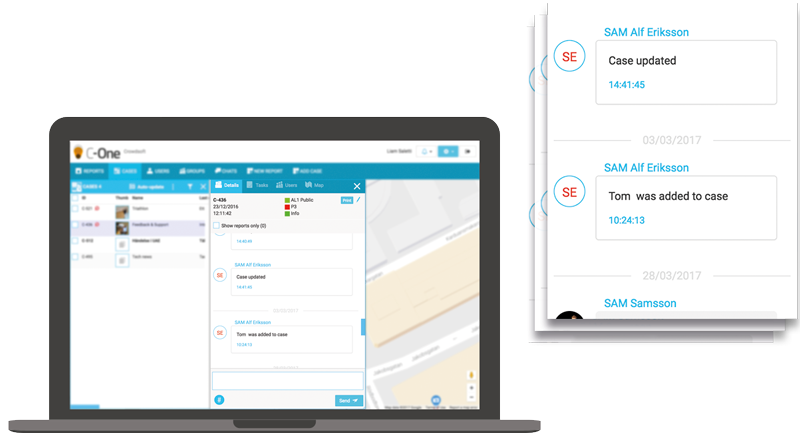 SAM - Situational Awareness Management
Incident reports and case management become simpler and more user-friendly than ever with SMC, and communication is always clearly visible thanks to the built-in central system view, giving the SAM central a full overview of each incident, both on a local and a central level.
Situational Awareness Management provides a representation of each individual incident, allowing the relevant personnel to act or manage each situation appropriately. In this way, real-time situational awareness helps to improve decision-making, creating positive outcomes in situations where every second counts.
This solution provides operational control and risk management, while allowing for the setup and control of social communication. SAM is further supported by field personnel and their reports, rich media messaging ensuring quality reporting and accurate situational awareness.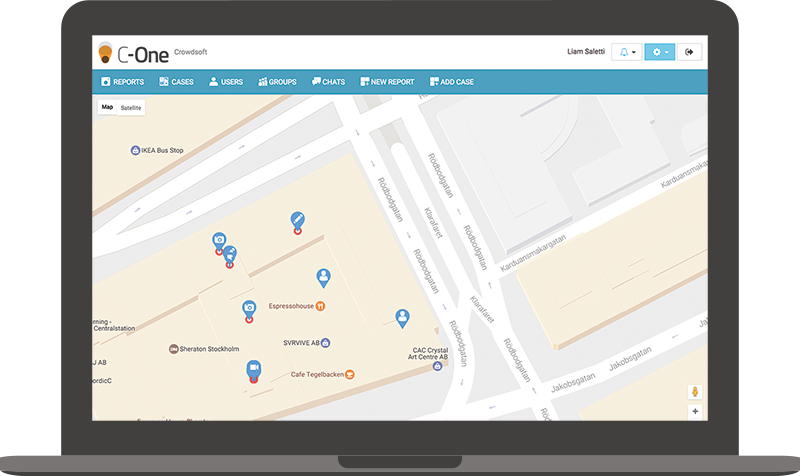 SMC – Social Media Communication
With C-One, everyone has the ability to view, comment, and share photos, videos, sound clips, files and text. Once this content is shared, other users have the opportunity to interact with the posted material.
SMC embraces the modern way of communicating while still maintaining organizational structures. Before social media, most communication had an intended receiver; now, however, social media is characterized by its instant communication to not one receiver, but an entire group or groups. What's more, thanks to quick links, texting and rich media, events can be reported in real time during ongoing events.
With SMC, business operations become streamlined, leadtimes become shortened, and response times become faster, all thanks to effective case management and collaboration control.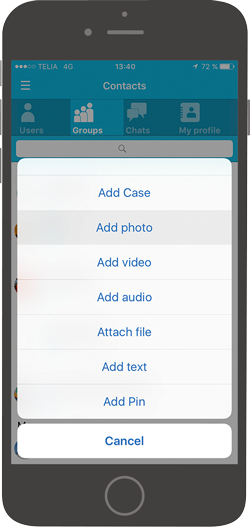 Geo safety
As our world is constantly changing, the need to establish a person's geographic whereabouts is increasing at the same rate as new threats constantly arise. C-One enables and give you safety and security functions, both for you as responsible and for your employees. This gives you situational control and overview with direct communication to the right person at the right time.
Find your staff – Do we have people there?
The first question that comes up during severe incidents is most often; Do we have people there? By marking at geographic area, such as a city or industrial area, a geographic zone is created and tells you who is in that zone. You are immediately able to communicate with those in the zone and take appropriate actions. This creates situational control and awareness to take the right actions.

Follow me!
Sometimes a person might be in an area or environment that is perceived less safe. Trough a single tap in the app, a request to follow me is sent to the SAM operator who will confirm and tracking is activated in real-time. This creates safety and control for both the co-worker and the employer.

User Tracking
If there are people in an area that is already confirmed to be unsafe or dangerous to be in, C-One enables the function of User Tracking for the SAM operator to follow one or several persons in real-time.
Alarm
C-One enables you to use your smart phone as an alarm and gives your employees increased safety and security if there is a risk of threats and violence. The alarm will have the highest priority and can be directed to one or several recipients.!