Suspicious activity
To keep your environment safe and secure you need your environments eyes and ears to support your efforts. To do that your eyes and ears network need to be able to send you reports and receive notifications.
An employee in your environment notices suspicious activity and using the C-One app reports the activity to your communication dashboard. Using a fast button when reporting and allowing for the report to be GEO positioned makes it easy and accurate to report. Your communication dashboard operator creates a case with all security staff and shares the information. The security staff can now collaborate effectively in the case and follow up on the suspicious activity.
An employee reports a suspicious activity using the efficicon and automatic GPS position. The message is sent to the Communication Dashboard.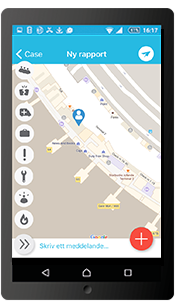 The Communication Dashboard creates a case and pass on the information without changes.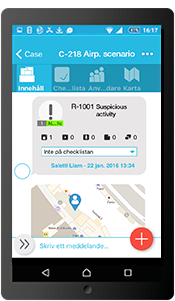 Employees collaborate to solve the situation.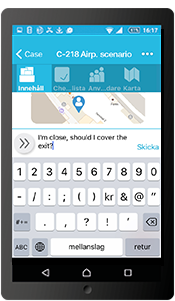 Key features
SMC – Social Media Communication
The system uses existing human connections, communications and behavior in a social media context in order to create a new, more intuitive approach to incident management.
Read more
Download product information