03 10 2017 - Who can see your secrets?
Open systems will always be at risk. In the development of apps such as Slack and WhatsApp, convenience and ease are prioritised above security, in order to reach and appeal to as many users as possible. But while the ability to send texts, images and multimedia makes users happy, the instant nature of cellphone communication can also make companies blind to the inherent risks involved.
Are companies taking the necessary actions to ensure that sensitive data is controlled and protected, or can anyone see anything? The consequences of lax security procedures can be shocking and costly. As such, the ultimate goal is to place equal emphasis on user-friendliness and strict security alike.
Now, consider the possibilities if your organization were able to enjoy the effortless communication of a social media app, while being protected by a closed controlled environment with affordable system maintenance and accessible data and information storage. Is such a technological advance even possible?
Communication… and Security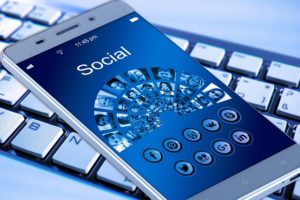 To answer this, take a look at the comparison of C-One, Slack and WhatsApp in the table. Each of these systems is used to communicate and collaborate, but there is a significant difference between their ability to control said communication. C-One, for example, offers mobile connectivity with the same features as open social channels, while being supported by a security architecture that ensures total online safety. By making use of a native messaging app, a central communication panel (SAM-central) and a role-based user framework, the C-One system connects people to a network that allows them to communicate and interact within a safe, supervised environment.
In order to collaborate, users create 'cases' for specific groups. Once a case has been created, each member in the group can follow it, comment on it, and communicate about it until a final solution has been reached and a result has been achieved. The SAM-central communication panel also gives management the ability to follow all ongoing cases in real time, and take control of a case if necessary.
All organizations are dependent on easy, efficient communication and collaboration to ensure their future success and growth. For example, companies in event management may need to communicate with a large number of people over a short period of time, with interaction no longer necessary once a specific event is over. For larger projects, users and cases may even need to be split into sub-projects.
By using C-One, companies will be able to easily add and remove users both inside and outside the organization, and assign them roles and team leaders without needing to constantly interact with the IT organization. When a user is added, they will be able to download the C-One app onto their smartphones, and login to the system. In this way, by utilizing existing infrastructure according to the 'bring your own device' principle, companies will be able to reap that benefits of a system that's not only user-friendly, but hugely affordable as well.
Added to these very real advantages, regular data analysis can also lead to valuable insights. While automatic communication collation and report generation is impossible through the use of open channels, C-One's closed system allows for the review of events from start to finish, with all communication data stored together with its time and GPS positioning of where and when it was generated. As such, thorough data analysis is possible, as is insight into the evolution of events, and any changes that may occur.
As the table demonstrates, communicating with C-One is every bit as easy as communicating with WhatsApp or Slack, but with the added advantages of tighter security, premium affordability, and full traceability.